Sometimes advertising terms can feel like a constant stream of evolving acronyms. First, there was OOH (out-of-home). Then there was DOOH (digital out-of-home). And now there is pDOOH (programmatic digital out-of-home).
pDOOH is the new kid on the OOH block. Programmatic DOOH refers to the automated buying, selling, and delivery of out-of-home advertising in the form of digital billboards and screens.
So, why should brands care about this innovative advertising platform? pDOOH is getting a lot of attention from marketing decision-makers, especially in the outdoor recreation and attraction industries, because of its ability to reach target audiences in a distinct way.
Here we dive into the buzz around programmatic DOOH and how it could be a beneficial solution to maximize your sales and drive marketing results.
The rise of programmatic DOOH
Programmatic DOOH functions much like programmatic online advertising, where you set conditions, and your ad is served automatically when those conditions are met. There are four main types of venues for serving programmatic DOOH advertising:
Digital billboards or spectaculars
Place-based such as grocery stores, gyms, or gas stations
Street furniture, including transit shelters or urban panels
Transit such as airports, train stations, or subways
Programmatic DOOH is in demand, and between 2019 and 2021, the number of digital billboards from Outfront, Clear Channel Outdoor, and Lamar grew from 12,466 to 21,911 – a 76% increase! Much of that rapid growth is attributed to converting traditional static billboards to digital and adding more digital screens.
The top 10 industry product categories for OOH advertising in 2022 include local services and amusements, hotels and resorts, and restaurants. Outdoor and recreation brands are making a splash in the DOOH space, with Columbia Sportswear winning a prestigious OBIE Award for its Columbia Warmth Melts Icy NYC Windows entry. The DOOH campaign was weather triggered to emphasize the warmth of Columbia's apparel for outdoor participants.
Achieve sales growth and lift advertising performance with programmatic DOOH
According to Watauga Group's MRI research, 48.8% of Adults 18+ are exposed to any digital place-based unit monthly. Gas stations (26.8%), grocery stores (15.5%), and medical offices (13.7%) are the top venue types. Younger demos are more likely to be exposed to place-based OOH, and as age increases, exposure decreases.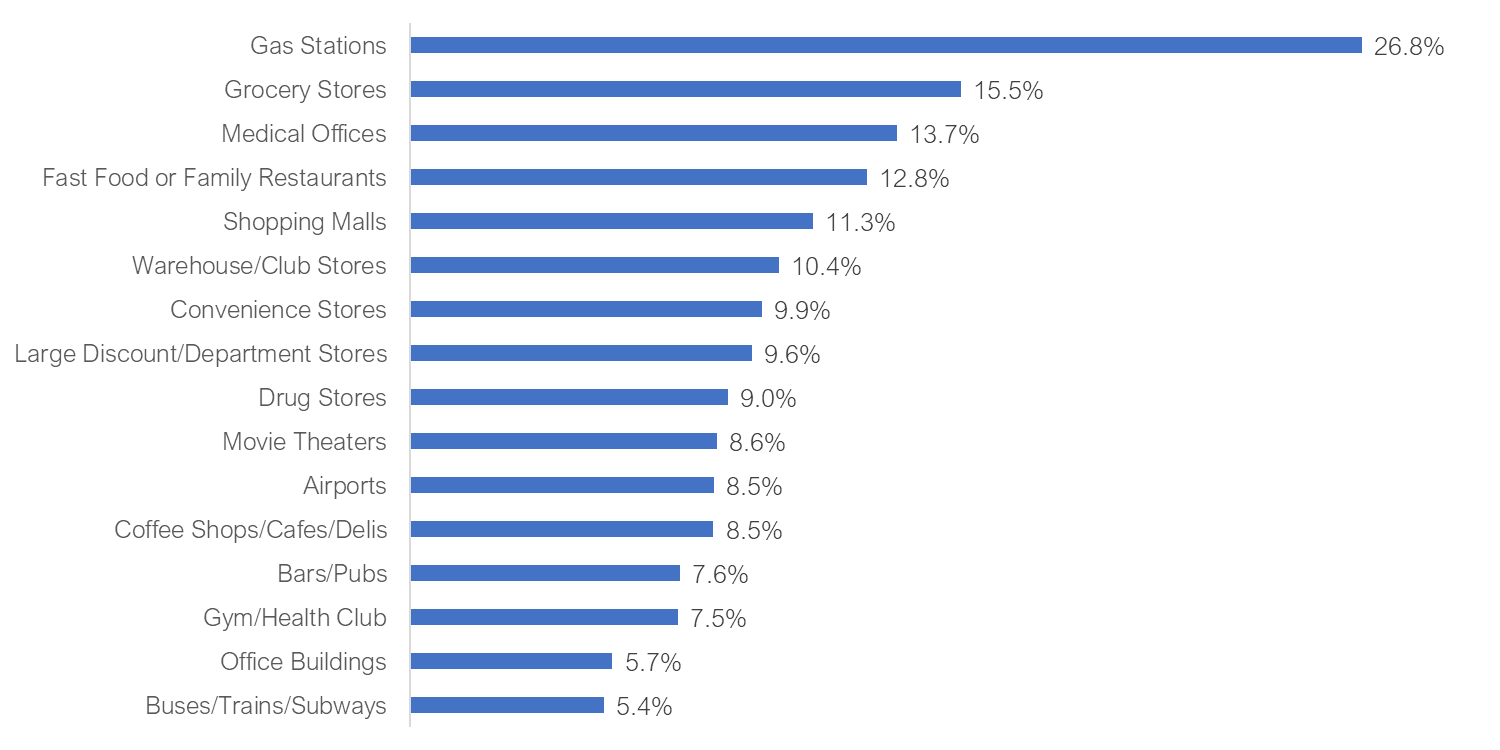 48.8% of Adults 18+ are exposed to any type of digital place-based unit monthly.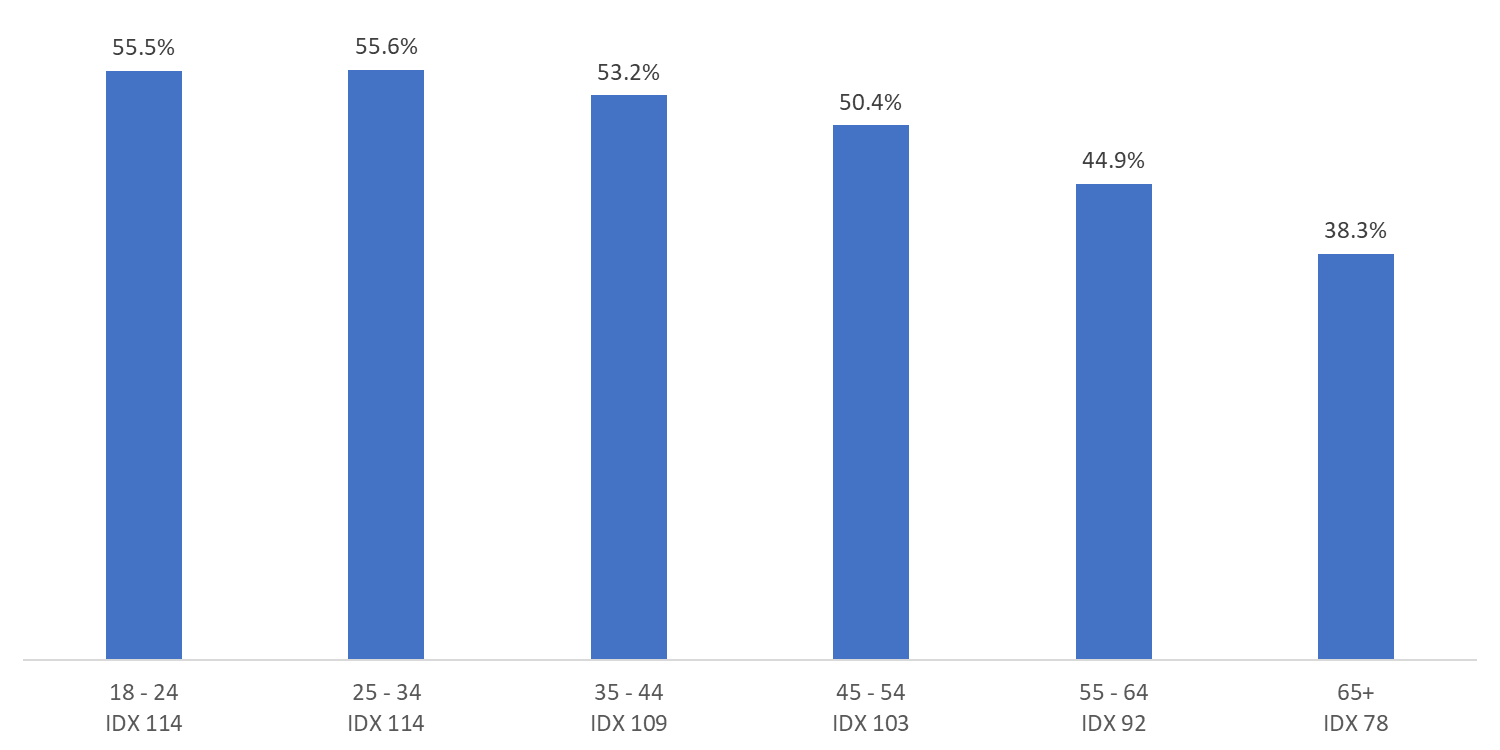 Younger demos are more likely to be exposed to place-based OOH monthly.
There are many advantages for brands using programmatic DOOH, such as:
Achieve a wider breadth of coverage in a market. At Watauga Group, our outdoor recreation and attraction advertisers, especially those with smaller budgets, find programmatic DOOH advantageous for affordable reach.
Capitalize on digital units going beyond the traditional static billboard to offer dynamic sight, sound, and motion or retarget those who have been exposed to the brand's OOH advertising through their mobile devices.
The ability to customize advertising by day of the week, time of day, or message is effective for campaigns tied to seasonality for sales growth, such as amusement parks or RVs.
But there are limitations to consider before making the leap to programmatic DOOH. Keep in mind that inventory is not guaranteed, and you might not get suitable geo-targeted locations which could impact your return on advertising spend (ROAS). Programmatic DOOH vendors do not exclusively own the DOOH space 24/7, and you may have to share it with other advertisers.
With any DOOH advertising, consider the venue types because some screens may not be fitting for your brand's creative. For example, copy on car toppers is often illegible because of the small screen size.
How Watauga Group helps with programmatic DOOH
So, how do you know if programmatic DOOH is right for your brand?
By working with Watauga Group, we ensure you are optimizing your media spend across traditional and digital media platforms. We help you avoid the drawbacks of programmatic DOOH and identify the right media strategy, planning, and buying solution that will drive sales and move your business forward.
Watauga Group has relationships with the leading vendors in the programmatic DOOH space, including Vistar and Adomni.  We have explored and vetted these partners to deliver an optimal experience for our clients.
Audience targeting is essential for outdoor recreation and attraction companies that are typically trying to attract a specific type of outdoor participant or visitor. Using MRI and Scarborough, our agency pinpoints the ideal programmatic DOOH locations that index against a client's desired audience. Brands can leverage audience data based on:
Behavioral patterns of consumer movements and places they visit
Household data based on purchase data attributes
Demographic data such as age, gender, ethnicity, and HHI
Client first-part data linked to location data or the ability to collect data from digital campaigns
In-depth reporting and analytics are provided for all of Watauga Group's campaigns to give insights into attribution. Standard metrics and custom measurement studies look at attribution across programmatic DOOH and brick-and-mortar sales, social mentions, or app conversion.
Looking to learn more about how programmatic DOOH may benefit your business? Contact us to discover ways that Watauga Group can support your brand.