One of the most important things in marketing is to know your audience, and when it comes to the outdoor recreation & travel space, we know that audience well. Our team recently listened to a Travel & Tourism webinar presented by Outside Magazine and found it chock full of valuable data and insights on today's travel audience. We thought it would be beneficial to share a few of our takeaways and insights regarding this audience that demonstrate how it continues to grow and change over time.
The Growing and Changing Outdoor and Travel Audience
Research shows that 86% of the outdoor audience plans to take a trip that focuses on activities in nature this year and is 2x more likely than other travelers to take a wellness vacation. The audience is increasingly interested in experiences over material possessions, particularly outdoor and recreational activities. In addition, the outdoor audience is skewing younger and more female than ever before as well with BIPOC individuals representing 20% of the audience.
When it comes to travel, this audience is willing to spend more on their next trip and upgrade their experiences, most particularly among the younger generations. However, authenticity and sustainability are important considerations for this audience, as 90% of survey respondents want to experience destinations like locals and be mindful of their impact on communities and the environment.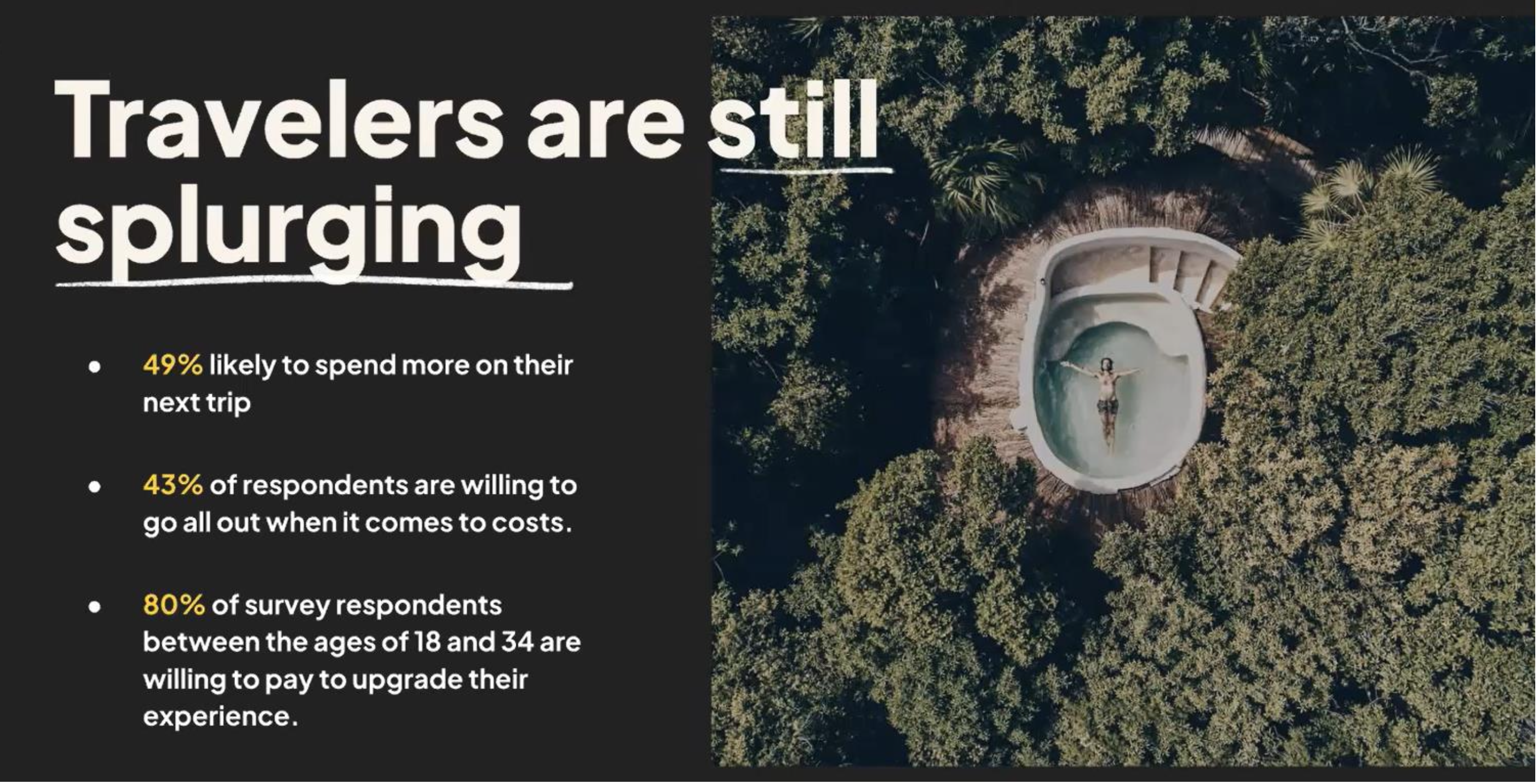 The Rising Trends of Bleisure Travel and Set Jetting
While the Bleisure (business + leisure) travel trend is not new, it is becoming more popular, with many business travelers extending their trips for leisure activities. 89% of survey respondents want to add some sort of leisure time to their next business trip. Millennials are the most likely generation to extend business travel into leisure time. The audience is willing to spend on luxury accommodations and enjoys getting to know locals while traveling, immersing themselves in cultural activities and volunteer work.
One rather new trend is Set Jetting (not to be confused with jet setting). Set jetting is when travelers consider traveling to a destination that they've seen either on films or streamed shows. This is an increasingly popular trend, with 39% of people booking destinations after viewing, and something over 80% of all global travelers has considered.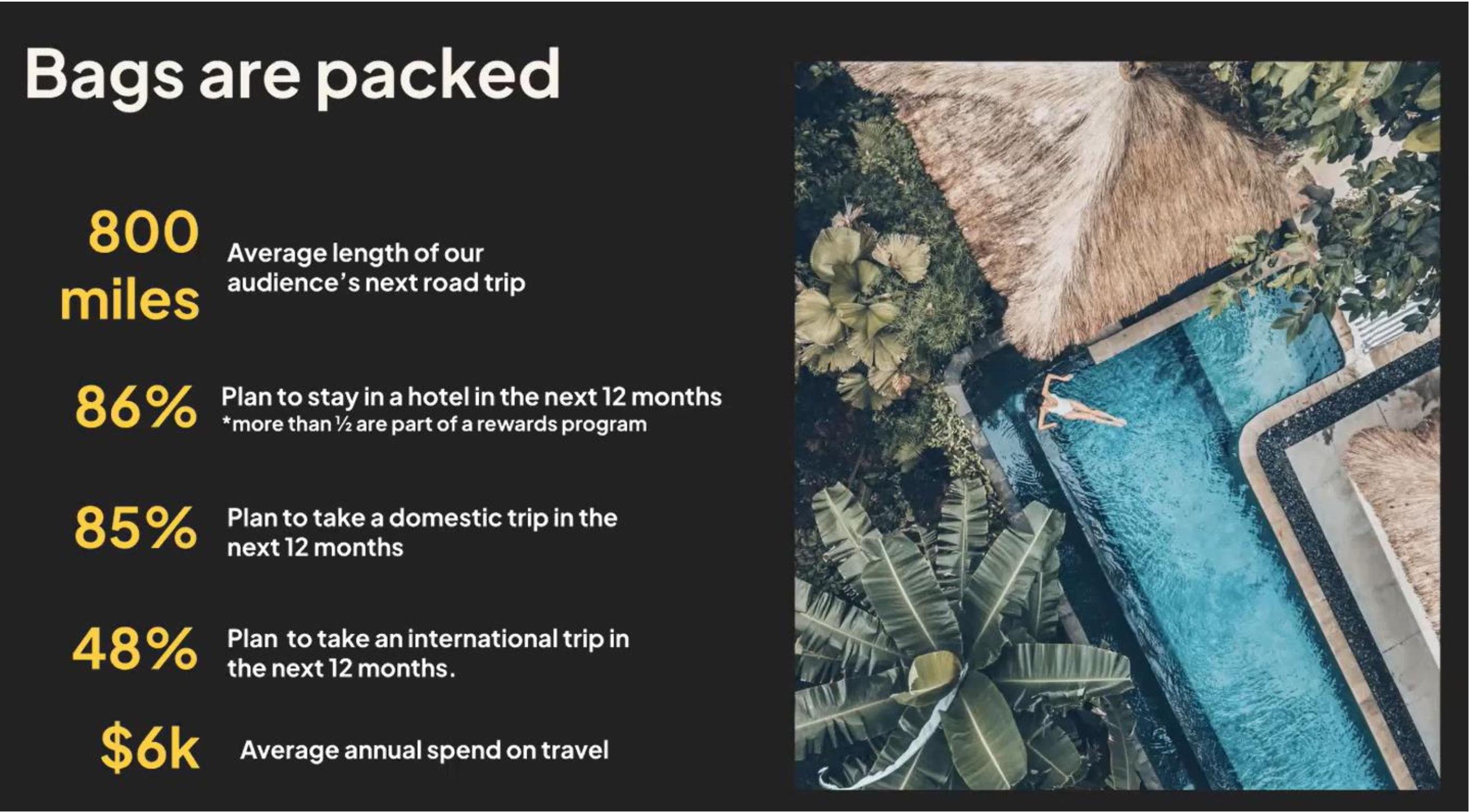 Putting Insights into Action: Reaching Today's Traveler
We are excited to brainstorm opportunities where we can put these learnings into practice with our media strategies for our outdoor recreation and travel clients. The one that has inspired the most thought from the Outside webinar is the Set Jetter audience. This audience and their likelihood to travel offers opportunities like aligning a destination client with programming that features aspirational travel destinations. This can impact both linear and streaming video strategies through program targeting and alignment. Another opportunity is promoting branded travel content to the Set Jetters across multiple channels featuring video content so they can experience a destination highlight reel to inspire consideration. Paid partnerships with Influencers align with this audience and will reach them through channels where they are most likely to be looking for inspiration like TikTok, Instagram, and YouTube.
Conclusion
The outdoor recreation and travel audience is transforming rapidly, presenting a unique opportunity for businesses to cater to younger, more affluent, and diverse individuals eager to explore. The applications of the insights gained from the Outside travel webinar are many, and we look forward to working with our clients to incorporate them into future media strategy and planning. If you would like to discuss any of these audience insights further, please contact us.