Attractions are constantly looking for ways to reach new audiences, increase attendance, and maximize their advertising return on investment (ROI). In 2023, paid video is expected to be the most important media channel to achieve these goals. With the rise in streaming video popularity and the continued use of traditional broadcast TV, Attractions can now create highly effective media strategies that drive both brand awareness and performance marketing results.
Integrated Video Strategy
Watauga Group recently conducted a study on the media usage and preferences of Attraction visitors to Amusement Parks, Zoos, Aquariums, Waterparks, Museums and Science Centers. The study found that visitors now consume TV and video content whenever, wherever, and however it is most convenient. To boost advertising ROI and reach more potential visitors in 2023, Watauga recommends Attractions use an integrated mix of screen-agnostic, paid video formats that encompass both traditional TV and streaming OTT/CTV, social video, and digital video. This multi-platform video strategy will deliver the widest and most cost-effective advertising reach with your targeted visitors.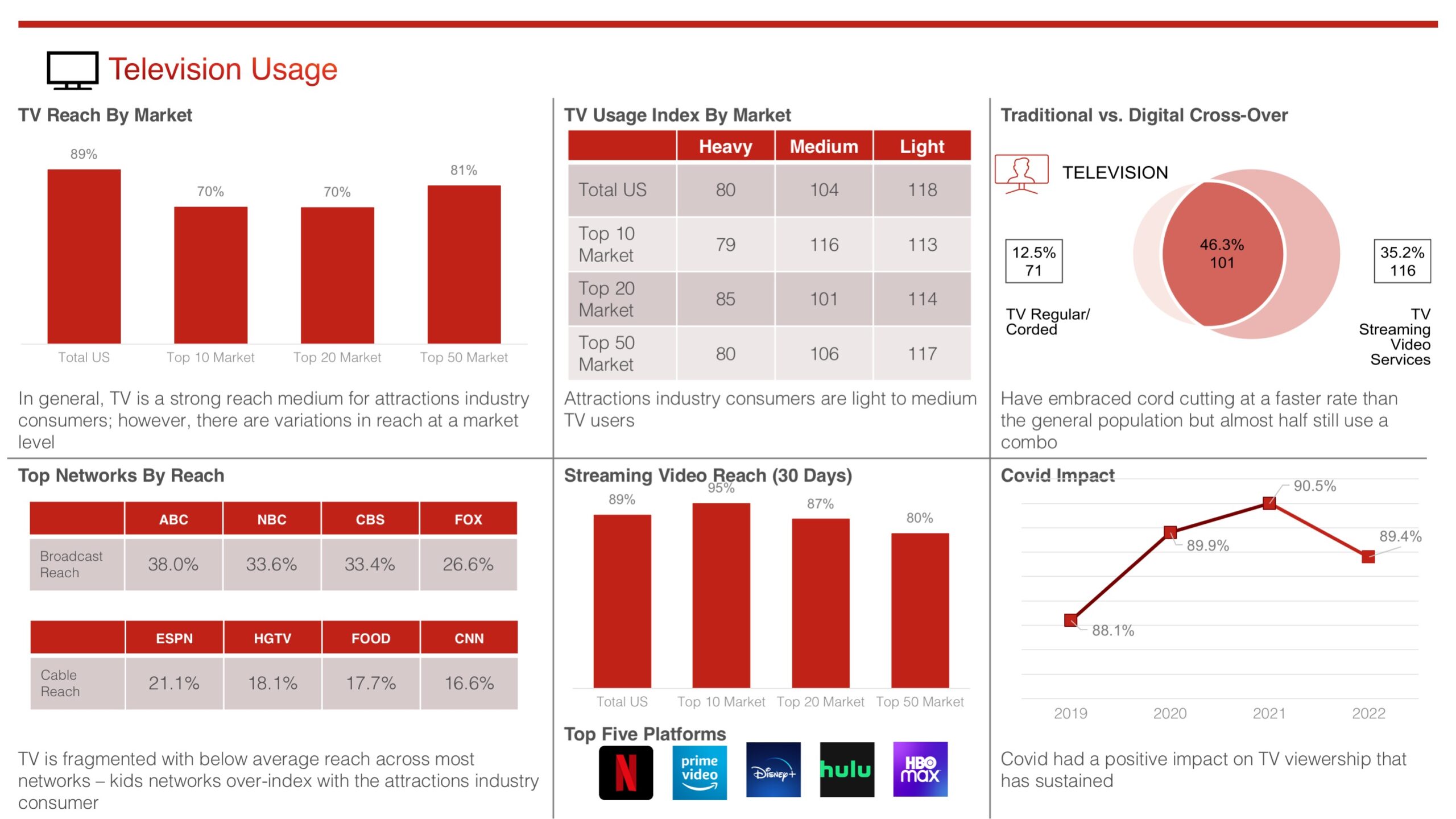 A Measurement First Approach
Another key to maximizing advertising ROI is a clear understanding of which advertising (and paid media) is working and what's not, allowing you to optimize your advertising strategies for maximum impact. Watauga suggests taking a measurement-first approach to building video media strategies along with new, robust 1:1 targeting strategies and features that are now available with both traditional TV and digital formats. This will allow you to identify which channels, platforms, and placements are most effective for reaching your target audience and adjust your strategy accordingly. By understanding the true sources of your advertising ROI, you can focus your efforts on the video strategies and tactics that work best for you.
Market And Audience Insights
Finally, Watauga suggests boosting advertising ROI by incorporating specific local market attributes and the unique needs and preferences of your target visitor into your video media strategies. This includes uncovering and determining the optimum video channel mix, dayparts, programming preferences, station/network strength, and app usage for target audience segments and your specific local markets or region.
Conclusion
Paid video is expected to be the most important media channel in 2023 to maximize advertising ROI for Attractions. By leveraging an integrated mix of video formats, understanding which video advertising is working, and incorporating local market attributes and target audience insights, Attractions can create highly effective video media strategies that drive audience reach, brand awareness, and visitor attendance. These video insights and recommendations provide a valuable roadmap for Attractions looking to boost their advertising ROI in 2023.
Study Details
Watauga Group uncovered these insights and recommendations among others using panel-based, syndicated research tools to study the media behaviors and preferences of visitors to US-based attractions. These insights were further enhanced with visitor analysis on a cross section of Amusement Parks, Zoos, Aquariums, Waterparks, Museums and Science Centers within specific Top 10, Top 20, and Top 50 markets on the East Coast, West Coast, and Central US. The study examined a comprehensive selection of visitor demographics and media usage data for internet, digital video and audio, traditional broadcast TV and radio, and out-of-home media channels. It is important to note the research also showed distinct variations in the data based on the local market size and type of each Attraction.
Please let us know if you would like to learn more about the study and receive a copy of the complete report and media insights for 2023.