With a healthy rebound from its initial Covid decline, Radio is a reliable and effective media channel for Attraction marketing success in 2023 based on Watauga's latest research into visitor media habits. This insight into visitor media behaviors and preferences reinforces the importance for Attractions to continue leveraging traditional broadcast radio, combined with new digital audio strategies, to maximize reach and ticket sales with visitors as well as new audiences. Watauga recommends Attractions leverage these three radio media strategies and tactics for 2023.
Attractions should incorporate and/or expand traditional AM/FM radio for local market reach while engaging listeners through influencer endorsements or experiential opportunities.
To reach over 75% of visitors, Attractions should complement traditional radio with streaming audio and podcasts, bought programmatically using highly effective 1:1 audience targeting strategies.
Attractions should highlight short-term promotions, discounts, and event ticket sales by engaging radio listeners with higher levels of message frequency.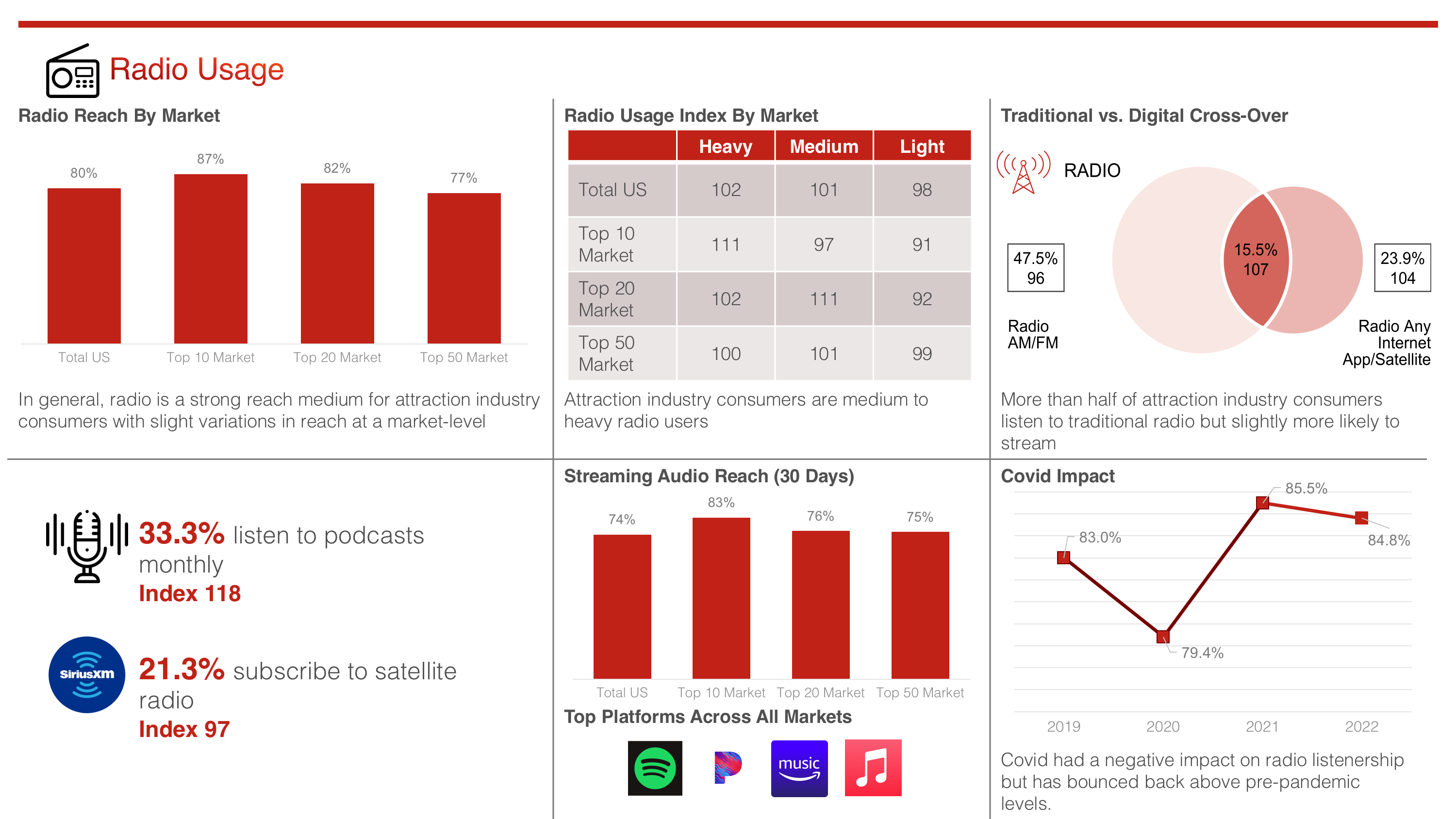 Study Details
Watauga uncovered these insights and recommendations among others using panel-based, syndicated research tools to study the media behaviors and preferences of visitors to US-based attractions. These insights were further enhanced with visitor analysis on a cross section of Amusement Parks, Zoos, Aquariums, Waterparks, Museums and Science Centers within specific Top 10, Top 20, and Top 50 markets on the East Coast, West Coast, and Central US. The study examined a comprehensive selection of visitor demographics and media usage data for internet, digital video and audio, traditional broadcast TV and radio, and out-of-home media channels. It is important to note the research also showed distinct variations in the data based on the local market size and type of each Attraction.
Please let us know if you would like to learn more about the study and receive a copy of the complete report and media insights for 2023.