Watauga recently conducted a study on the media usage and preferences of Attraction visitors to Amusement Parks, Zoos, Aquariums, Waterparks, Museums and Science Centers. With a 96% visitor reach, our research supports the use of a holistic, digital-forward media strategy as an essential part of the overall marketing plan for Attractions to connect and engage with potential visitors. Understanding visitor usage patterns and preferences of digital media channels are critical in helping Attractions make informed decisions and how to best reach new audiences, increase attendance, and maximize their advertising return on investment (ROI).
Paid Social
Paid social media advertising can be used by Attractions to reach potential visitors where they are already spending time online. Watauga's research shows social media platforms such as Facebook and YouTube, with 66% and 57% reach respectfully, are widely used by Attraction visitors. Additionally, social media platforms have become increasingly popular as a source of information for visitors, with 25% of tourists reporting that they use social media to research attractions before their trip. Watauga's study also showed Attractions must invest in new, fast growing social platforms, like TikTok with close to 28% growth in visitor reach, as established social platforms are gradually decreasing in YoY usage. Furthermore, visitors are actively posting experiences and engaging with brands so it's imperative for Attractions to deliver platform specific messaging that adds value to their experience.
Digital Display
Digital display advertising, including programmatic display and retargeting, allows Attractions to target visitors who have previously interacted with their advertising placements or other owned digital assets, such as their website. According to recent data, around 70% of visitors to attractions regularly interact with digital display ads. This demonstrates the high level of engagement that digital display can achieve, making them an effective tool for attracting and retaining visitors. Additionally, programmatic display and retargeting allow Attractions to deliver more personalized and relevant ads to their target audience, increasing the chances of engagement and conversion. Lastly, digital display advertising provides a wealth of data that can be used to track visitor behavior and inform future advertising strategies. This allows Attractions to optimize their campaigns and achieve better results over time.
Over-the-Top (OTT)
Streaming video or Over-the-top (OTT) advertising is quickly becoming an Attraction's most important digital media channel to reach visitors in the TV ad space, with our research showing 35% of visitors exclusively streaming over traditional TV viewing. This is a 17% YoY increase in the number of cord cutters! Not to mention, an additional 46% of Attraction visitors are now using a combination of both traditional TV and streaming video services. The recent news of Netflix offering advertising to the masses comes at the perfect time as the platform continues to dominate in overall reach with 70% of Attraction visitors watching weekly. Even though Netflix is king, Attraction visitors also over-index compared to Adults 18+ across all the major streaming platforms, including Disney+, Hulu, and AppleTV+. OTT can be an effective platform in delivering high-quality video to visitors who are engaged in watching long-form content at their convenience. Furthermore, purchasing OTT programmatically across multiple streaming platforms gives Attractions the power of scale with the added benefit of enhanced targeting and reporting capabilities.
Streaming Audio
With over 75% reach, running advertising on streaming audio platforms can be a powerful way for Attractions to reach a large and engaged audience of visitors. With the increasing popularity of audio streaming services like Spotify, Pandora, and Apple Music, Attractions can now target consumers who are actively listening to music and other audio content on their devices. Additionally, the personal nature of audio streaming services means that listeners are often highly engaged with the content they are listening to, making them more likely to pay attention to and retain information from the advertisements they hear. For example, our study found that 33% of Attraction visitors actively listen to Podcasts.
Another advantage of streaming audio is the ability to reach specific target visitor demographics. Platforms like Spotify and Pandora offer Attractions the ability to target ads based on an Attraction's unique target visitor's age, gender, location, and listening habits. Overall, streaming audio provides Attractions with a unique opportunity to cost-effectively reach a captive, targeted audience and maximize overall advertising ROI.
Build to Measure
Watauga recommends a measurement-first approach to building digital media strategies. This allows Attractions to identify which digital channels, platforms, and placements are most effective for reaching potential visitors and adjust your strategy accordingly. By understanding the true sources of advertising ROI, an Attraction can focus efforts on the digital strategies and tactics that work best for their unique local market and target audiences.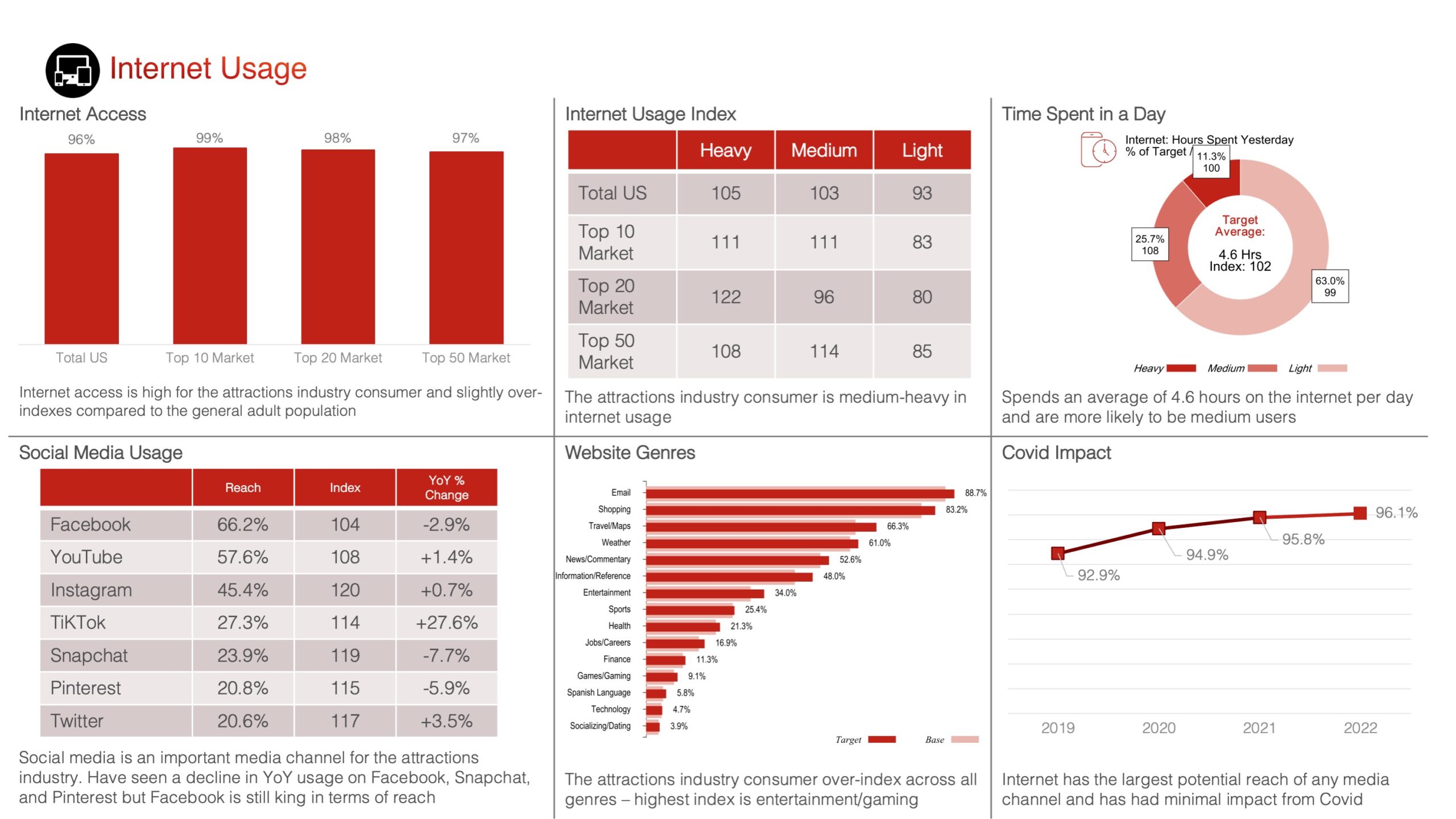 Conclusion
Amusement Parks, Zoos, Aquariums, Waterparks, Museums and Science Centers can all benefit from using a combination of social, display, streaming audio, and OTT digital media channels to effectively reach their target audience of visitors. And by understanding the usage patterns and preferences of visitors, Attractions can make informed decisions and allocate resources effectively to achieve their marketing goals.  
Study Details
Watauga uncovered these insights and recommendations among others using panel-based, syndicated research tools from MRI-Simmons and Nielsen Scarborough to study the media behaviors and preferences of visitors to US-based attractions. These insights were further enhanced with visitor analysis on a cross section of Amusement Parks, Zoos, Aquariums, Waterparks, Museums and Science Centers within specific Top 10, Top 20, and Top 50 markets on the East Coast, West Coast, and Central US. The study examined a comprehensive selection of visitor demographics and media usage data for internet, digital video and audio, traditional broadcast TV and radio, and out-of-home media channels.
Please let us know if you would like to learn more about the study and receive a copy of the complete report and media insights for 2023.