Outdoor & Recreation leaders are always seeking new ways to better understand their target audiences, existing customers, and how to maximize marketing performance. Look no further than Google Analytics 4 (GA4), the latest version of Google's web and app analytics platform. With a host of new features and improvements, GA4 is poised to revolutionize the way Outdoor & Recreation brands track and analyze website and app data.
One of the most exciting things about GA4 is its enhanced data collection and analysis capabilities. With cross-device measurement and automatic event tracking, GA4 makes it easier than ever for Outdoor & Recreation brands to get a comprehensive understanding of user behavior across all devices. And with built-in machine learning, GA4 can provide advanced analytics and insights that were previously only available to data scientists.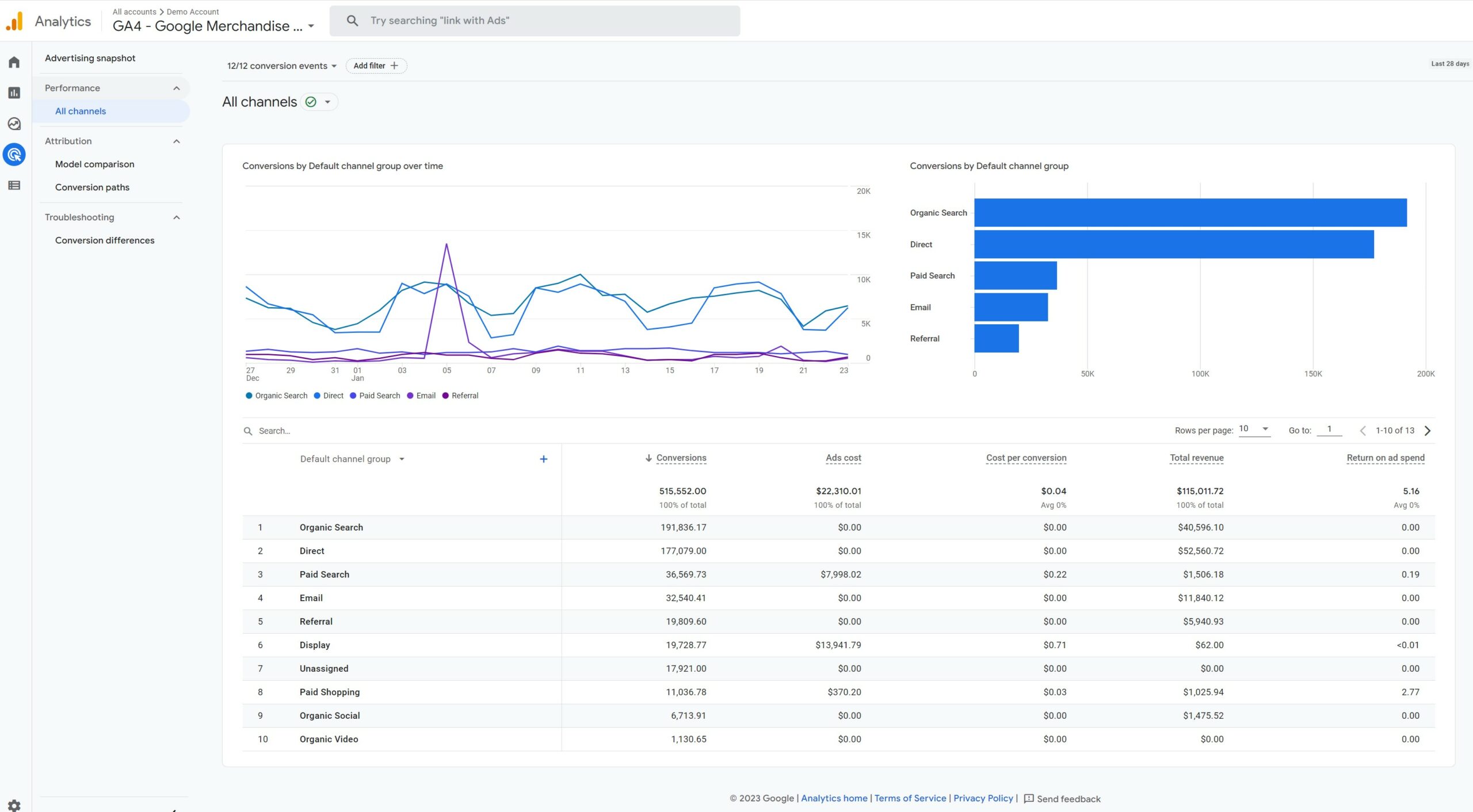 But that's not all, GA4 also offers seamless integration with other Google products such as Google Ads and BigQuery, allowing Outdoor & Recreation brands to easily connect and analyze data from multiple sources for even more actionable insights. And GA4 isn't just about more data; it's also about better privacy. With GA4, Google is taking steps to ensure that user data is handled responsibly and securely, giving companies peace of mind that their data is safe, and users' privacy is protected.
But what does all this mean for you? Well, if you're currently using Universal Analytics, it means you'll need to start preparing for the transition to GA4. Here are a few steps you can take to get started:
Review your current tracking and measurement setup. The GA4 tracking code is different from the Universal Analytics tracking code, so you'll need to implement the new code on your website or app in order to start using GA4.
The new GA4 tracking code should be implemented before July 1, 2023, which is the date that Universal Analytics will stop collecting new data. Then verify that the tracking code is working properly.
Set up events and parameters to track user interactions on your website. GA4 uses events and parameters instead of page views and page titles for tracking.
Test your implementation to ensure that user interactions are being tracked accurately. Troubleshoot any issues.
Migrate your data from Universal Analytics to GA4. You will have six months after July 1, 2023, to access previously processed data in your Universal Analytics property and migrate it to the new GA4 property.
Update any integrations with other tools or platforms to use the GA4 tracking code. The Source and Medium for UTMs also need to be updated to follow GA4 guidelines in order to source traffic properly. All Medium options should be changed to paid or paid video apart from Google Search/Bing (cpc) and YouTube (cpv).
Monitor and analyze your GA4 data regularly to ensure that it is accurate. And adjust your reports as needed to fit the new GA4 reporting and analysis tools.
It's important to note that migrating to GA4 may take some time, depending on the complexity of your website and the size of your data. That's why it's crucial to start the migration process as soon as possible. And keep in mind that GA4 is still in beta, so be sure to check the official Google Analytics website often for more information and updates.
Overall, GA4 is an exciting new development in the world of web and app analytics. With its enhanced data collection and analysis capabilities, improved privacy, and integration with other Google products, GA4 is sure to become a valuable tool for Outdoor & Recreation leaders looking to better understand their website and app users. So, don't wait any longer, start preparing for your transition to GA4 today!